FANS' MEMORIES OF DALE EARNHARDT
|
Home



Santa and The Black #3
Written by Cynthia Guenthner
As seen in the Dec. 2001 issue of Beckett
Twas the night before Christmas and at the North Pole Already the
winter had taken its toll.
The barn door flew open from the strong, chilly breeze And in stumbled Rudolph; he started to sneeze.
The light had completely gone out of his nose; He shook and he trembled from his head to his toes.
Mrs. Santa remarked, "Why Rudolph, you look quite a fright There's no
way you can lead Santa's sleigh tonight!"
Santa sighed and sobbed, "Dear what will I do: It's Rudolph's big night, but he's got the flu!"
She kindly reminded him, When you're in a bad way Ask God for an
answer--Santa, just pray" "Lord, my trustiest reindeer's come down with a cold I can't do it alone, for I'm getting too old!"
Then God came to Santa in a brilliant white light Assuring him He would provide for that night.
"We've got a new angel; he came just this year He's faster, much faster
than any reindeer.
You'll know when his shiny black car you will see It's faster than
lightning with a big number 3".
Before he could even get up off his knee Santa looked up to behold the
Black Number 3
But suddenly the grandfather clock struck midnight. Santa said, "I give up--there's no time to make the whole flight."
The driver calmly said, "Just load up the toys. We'll make sure there's
Christmas for all girls and boys."
When they finished loading, he said, "Hop right inside. We're going to
make a record-time ride."
But meanwhile at NOAA, the trackers were worried "We haven't spotted Santa; we sure hope he hurries!"
When a quarter past midnight a small blip appears. "Why it must be
Santa, but that's no reindeer!"
By 3:45 their journey complete, Santa exclaimed, "I can't believe we've accomplished this feat!
All gifts were delivered in time record breaking So quickly and easily,
and I'm not even aching!"
Back at the North Pole was the red-nosed reindeer Standing in awe and
shedding a tear. Saying, "Santa, I see that you need me no more.
Well, I'll have to retire;just show me the door."
"Wait a minute Rudolph,' said the driver of "3," "I'll teach you to fly,
maybe faster than me".
So if some starry night you see a flash in the heavens It might be the
Black 3's giving Rudolph flying lessons
And then by next Christmas, quite a sight you will see, Merry Christmas from Santa, Rudolph, and the Black Number "3"!

Dale's Gift
We came from near, we came from afar
We were joined by a bond for Nascar's star
That star burned so brightly, our beacon of light
While he was here, all the world seemed right
He gave us so much, more than he even knew
Years of excitement in racing, and he gave me you
For without this great man, we would never have met
Together we've shared, years we'll never forget
The joy and the pride , down through the years
And on that Black Sunday, we shared the tears
But we keep memories alive , warm in our hearts
Thank God we were blessed to have had Dale Earnhardt
Now the family's together, such a Holiday treat
Trust me, doing that folks was no easy feat
Gathered together with hugs and moist eyes
We looked in the direction of the Carolina skies
A star from the North, shining bright with a tail
Paused for a moment and we knew it was Dale
Snow started falling, reflecting it's light
Pure radiance surrounded us, we know he's alright
He's on his way home, to spend Christmas Eve
With the family he loved, but who he had to leave
He'll come to rest in that Christmas sky
A beacon to us over DEI
Love and Merry Christmas
Barb Kerr ©12/19/01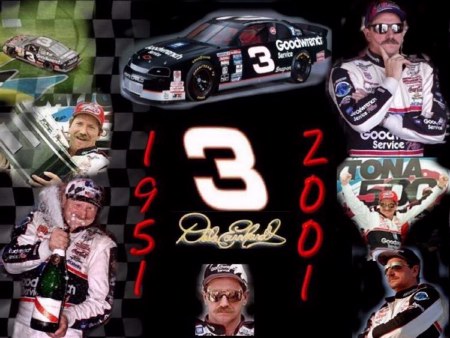 "Fallen Hero"
By Joe Simonetti
Inspired by "Fallen Flowers" by Steve McDonald
There a year later,
The season starts again,
After losing our fallen hero,
In her dreams, Dale is there,
Tears in his sparkling eyes,
He calls her name, she still hears him.
Hon, If I could live my life again,
If I could call the world my friend,
If I could write the story's end, I would.
I would give all my championships in vain,
To feel your embrace again.
A smile comes across his face, an uneasy calm,
In front of him, his life flashes by,
Amidst his boyish charm, he feels his wife's embrace,
In that fleeting moment, he hears her cry.
Dale, If I could roll back the years,
If I could see through these tears,
And face all my fears, I would,
I would give everything in vain,
Just to hold you once again.
Remember me forever,
Always forever,
Please forget me never,
I will forever.
If we could roll back the years,
If we could see through these tears,
If we could face all our fears,
If I could life my life again,
If I could call the world my friend,
If I could write the story's end, I would,
I would endure a thousand years of pain,
Just to hold you once again...
11 months and it still hurts...
This Poem is to be published in "Letters from the Soul," which is to be released in Winter of 2002: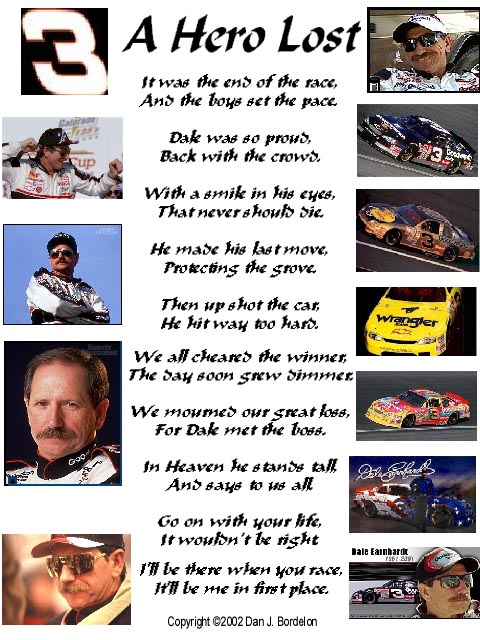 "TWAS THE NIGHT BEFORE CHRISTMAS"
'Twas the night before Christmas, we all had a sniffle
Not a creature was healthy, not even Greg Biffle;
The stockings were hung by the chimney with care,
In hopes that new die-casts soon would be there;
The children were sleeping, in bed at last
Dreaming of champions both current and past;
And mamma with her scanner, and I in my cap,
I was beginning to dream of Martinsville's last lap.
When out on the lawn there arose such a clatter,
I sprang from the bed to see what was the matter.
Away to the window I flew like a flash,
Looking like Buckshot, heading for a crash.
The moon on the breast of the new-fallen snow
Gave the luster of mid-day to objects below,
When what to my wandering eyes should I see,
But a pack of magical stockcars closing on me.
With a old lead driver, so confident and steady,
I knew in a moment it must be the King Petty.
More rapid than eagles his coursers they came,
And he whistled, and shouted, and called them by name;
"Now, Gordon! Now, Wallace! Now, Kenseth and Newman!
On, Earnhardt! On Schrader! And the rest of his crewmen!
Thru the driveway corner! Up close to the wall!
Now dash away! Dash away! Dash away all!
As dry leaves that before the wild hurricane fly,
When they meet with an obstacle, mount to the sky,
The heat from their engines had the snow meltin',
Pulling a sleigh full of gifts, and Jolly Mike Helton.
And then, at the drop of a flag, I heard up above
The squealing of tires I have grown to love.
As I drew in my head and was turning around,
Down the chimney Mr. Helton came with a bound.
He was dressed like a redneck, from his head to his foot,
And his jeans were all tarnished with ashes and soot;
A bundle of die-cast he had flung on his back,
And he looked like me after a day at the track.
His eyes-they were wrinkled! I could see despite the dark
His hat was of Rusty, his shirt of Steve Park
His eyes were filled with competitive fire,
And the beard of his chin was as black as a tire;
He had a great presence, the powerful man
It was obvious then, he was a true NASCAR fan;
He had a broad face and a big round belly,
In his hand was a die-cast signed by Dale, Kerry and Kelly.
Along with his presence, three ghosts did appear,
Earnhardt, Allison, and young Petty, but gave me no fear;
They appeared in my house, with a host of others,
To give comfort to brothers and sisters, fathers and mothers;
Helton spoke not a word, but went straight to his work,
And filled all the wishes; then turned with a jerk,
And holding three fingers in front of his nose,
And giving a nod, up the chimney he rose;
He sprang to his sleigh, to his team gave a whistle,
And away they all flew like a nuclear missle.
But I heard him exclaim, as he sipped a Corona,
"Merry Christmas to all, and see you in Daytona!"
© 2004 Fans' Memories of Dale Earnhardt