FANS' MEMORIES OF DALE EARNHARDT
|
Home




A Great Tragedy
Written by Evelyn Lea Adams on 4/21/01
When I heard the announcement today
I screamed: Oh Lord; No! No! No way!
The words keep running through my head
And my heart, it feels as heavy as lead
The words: "We lost Dale Earnhardt this afternoon"
My mind saying, no, not yet, it is way to soon
The statement: "Nascar lost its greatest driver"
No, that can't be, Dales always been a survivor
The worst announcement, Nascar ever had to make
Held more pain and heartache, than anyone could take
People the world over, came together to mourn
The greatest Nascar driver, that had ever been born
For his wife, children, family and friends, I wept
As deep in my heart, his image and memory I kept
For the Mother, who had just lost a Son, I was sad
But for the 25 years of Sundays, he shared, I was glad
It would have been wonderful, to meet him this year
Finally, my trip to Fontana, planned too late, I fear
For Dale Earnhardt, God had a different strategy
The Daytona 500, 2001, was "A Great Tragedy"
Copyright 2001 Evelyn Adams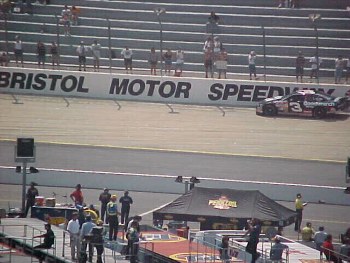 Provided by gordonrulznascar on the About.com
Nascar Board.
NASCAR Racing

Written by Evelyn Lea Adams on 4/13/01
A week consists of seven days
On Sundays we go to Church to Pray
Then some of us, rush right home
Anxious to turn our television sets on
We sit patiently, with fast beating hearts
Waiting to see where our driver will start
As cars and drivers onto the track pour
The fans come to their feet, with a loud roar
They bump and grind around the racetrack
Waltzing and weaving, to get ahead of the pack
Dancing and driving, in their own special way
So desperately hoping for a win that day
They race is long; they're tired and very hot
Still they give us the best they've got
Into the pits they go, for tires and gas
Knowing this race, much longer won't last
Back on the track, checkered flag in sight
The #3 car wins, without much of a fight
He came from behind, like a shot from a gun
Oh my goodness, isn't Nascar racing fun
Copyright 2001 Evelyn Adams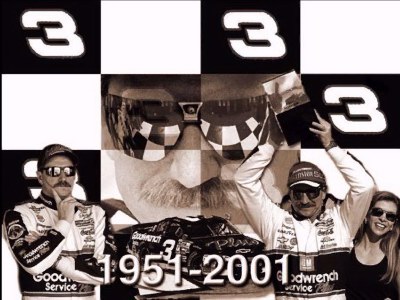 April 29, 1951
Written by Evelyn Lea Adams on 4/23/01
On this glorious day, April 29th, fifty years ago
Was a blessed event, that made Ralph's eyes glow
For Martha had delivered, a healthy baby son
And joy through out his parents bodies, did run
Dale was the name chosen, for their new baby
Everyone asked: "Will he belike his Dad" Well maybe
From a toddler, he grew into a strong little boy
His Dad's racecar, was definitely his favorite toy
Into a handsome teenager, young Dale did sprout
A mischievous young man, of that there is no doubt
He had no interest in school, very little I'm afraid
So he was a high school drop out, by the ninth grade
His Dad was certainly his biggest Idol, by far
And his greatest passion, yes, to drive a racecar
Martha's fear for her husband, never disappeared
Now her son would follow in his footsteps, she feared
Still Dale went a racing, starting out on dirt tracks
As the years passed, he was known as "The Man In Black"
His Dad, Ralph Earnhardt, passed away in 1973
Never knowing how famous, his son Dale would be
Copyright 2001 Evelyn Adams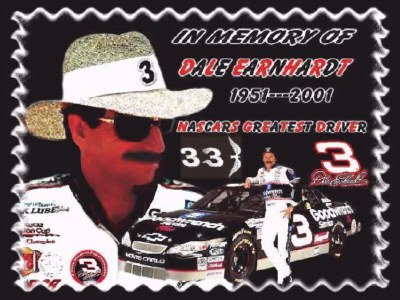 Nascar Cowboy
Written by Evelyn Lea Adams on 4/24/01
There once was a man, that was over 6 ft. tall
He drove racecars for a living and had a ball
With a swagger to his walk and a cowboy hat
In the yellow and blue Wrangler car, is where he sat
Sporting a mustache and hair longer than it should be
Into his car he climbed, every Sunday with glee
This man, family and friends knew, was no myth
For on the racetrack, he's a force to be reckoned with
When he spoke to you, in his soft southern drawl
People loved him, no matter how large or small
He drove that Wrangler car, to his 1st Championship
Never once did he falter and he never, ever made a slip
He would jump in his car and fasten his seat belt
Ready to take whatever hand, to him was dealt
White knuckling his way around, like a whirlwind
You can bet your bottom dollar, he was going to win
If you passed him on the track, to be the one that won
He didn't mind giving a sign, to show you were #1
Who was this man, that treated his racecar like a toy
Why it's Dale Earnhardt, he's definitely Nascar's Cowboy
Copyright 2001 Evelyn Adams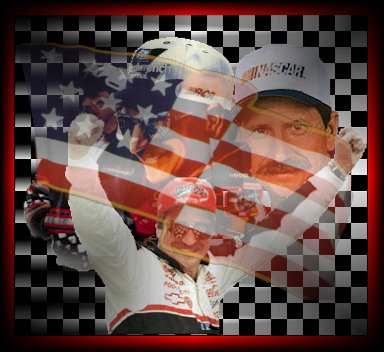 HEROS
Written by DakotaNASCAR
Looking up from the tracks
Wishing we could see them come back
Just to race one more time
Most of them not yet in their prime
Young guns with visions of victory
Called to Heaven before they could make history
Older veterans with records and wins
Giving the fans thrills, chills, and spins
Men like Lee, Neil, Dale, and Fireball
Heroes in life and death to us all
Boys like Davey, Tony, Adam, and Kenny
All so young and filled with energy
There were many more to name
And lots of fame for them to claim
Let's keep all of them in our hearts
And never forget their finishes and starts
Because NASCAR is loaded with losers and winners
And they're all saints and sinners
But know that the good Lord has the final decision
To say "GENTLEMEN START YOUR ENGINE"
© 2004 Fans' Memories of Dale Earnhardt