FANS' MEMORIES OF DALE EARNHARDT
|
Home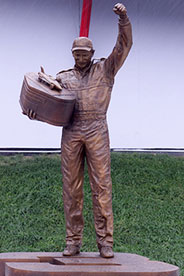 In My *Hardt*
In my heart I'll always see you on the track
Leading the field in that stock car colored black
I'll hear the cheers through all eternity
Nothing can take away my memories of number 3
I still feel you here
I won't forget the joy you gave to me
All those Sundays at the track and on TV
All the times you made me burst with pride
The greatest ever cannot be denied
You still live on
A part of you will always live in me
I'll stand with pride for all the world to see
An Earnhardt fan until the day I die
Then I'll meet you at that track up in the sky
I know you're near
Your flame will always burn so bright
A beacon to us, in our darkest night
There's no dream we can't achieve
It was you who taught us to believe
You're in all of us
As the seasons change and years go past
The memories of you will forever last
The life and times of Dale Earnhardt
Will forever be enshrined within my heart
We love you still
Barb Kerr © 04/04/02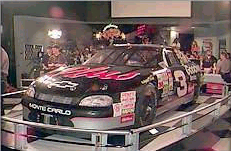 Memories of the Future
In the heart of Alabama, on the track so full of lore
Many greats have raced there, and in the future many more
But the master of the "bama track, will forever be
The Legendary Racer, the driver of number 3
He flew around those high banks, like an eagle in full flight
And like that noble bird, he kept his prey in sight
The spirits of that 'dega track, spoke of long ago
The air it whispered to him, it told him where to go
Maybe it was his connection with the land and the track
That allowed him to mystify , with his moves on this track
His tales upon that "bama track, are now a part of lore
He will always be the master, now and evermore
But the legends of Dale-adega, have only just begun
They are being carried on, by his namesake, his son
Now the father rides shot gun , for the son in number eight
He speaks in the air he saw, "On this track you will be great"
"I will show you how to move the air, and make it do your will"
And we will watch in wonder, almost like time stood still
And we will remember, and everytime we see
The 8 take the checkers, that in the 8 there will always be a 3
And later in this year, when again they seek the prize
On the horizon we will see, a legend's duel *son-rise*
Kerry and Junior, racing side by side
And the master of Dale-adega will be grinning with pride
And maybe in some future year, maybe there'll be three
Maybe a young lady, driving her daddy's Number 3
Barb Kerr © 04/23/2002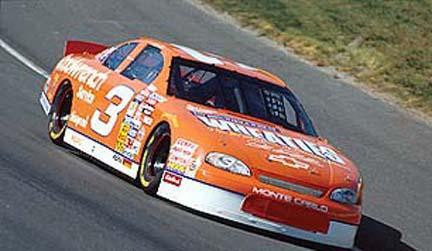 'Twas the night before Daytona
Posted on the NASCAR.com board
'Twas the night before Daytona, when all through the state All the race fans were stirring, in line at the gate. The coaches were lined up in the infield with care, In hopes that victory soon would be theirs.
The drivers were nestled all snug in their beds, While visions of Winston Cups danced in their heads. The King in his glasses, Coach Gibbs in his hat, Hoping their drivers stay on the lead lap.
When out on the grass, black smoke light a fire, No flames - just Harvick - burning his tires.
Away to the grandstands I flew like a flash, Ran up to the vendors, my hands full of cash. A t-shirt for Vinnie, a hat for Cali Jo, To cherish forever from NASCARís big show.
When, what to my wondering eyes should appear, But a red Chevrolet, sponsored by beer. With a smiliní young driver, so lively and smart, I knew in a moment it must be Earnhardt.
More rapid than eagles these racecars they came, The announcer, he shouted, and called them by name.
"Now, Marlin! now, Martin! now, Stewart and Nadeau! On, Terry! on Bobby! and the Burton boys too! To the top of the pit! to the top of the wall! Now peel away! squeal away! speed away all!"
Michael Waltrip won last year, his first victory And the horror that followed, the loss of the 3. But their teams are strong, we know in our heart, Plus we really love Kenny, yet still miss Steve Park.
And then, in a twinkling, I saw at the gates The 2-8 and 8-8, the cars of Bob Yates. I looked for a penny, a horseshoe for luck; I wanna see DJ drive that UPS truck.
Dave Marcis is leaving, Daytonís his last, His wing tips remind us of days of the past. But with young guns like Casey, Ryan and Ron, The future of racing is steady and strong.
The fans how they made noise! The thunder and roar! His car was like lightning, the mighty 2-4! A paint scheme by Dupont; dancing flames like a lamp, Crowds love him and hate him, this Winston Cup Champ.
Jimmy Spencerís new ride is my own company, The bullseye of Target, I canít wait to see. And speaking of sponsors, you know itís alright, With Rusty in charge of that blue Miller Lite.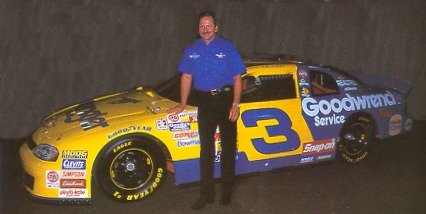 DALE EARNHARDT
Written By Deanna L Truax
A long shadow is cast down on Victory lane,
in the dark form of the THE MAN IN BLACK.
He died doin' what he loved, racin',
Doin' it the way he loved doin' it, bumpin' and rubbin'.
The race is over now for THE INTIMIDATOR.
As the last chance crew
performed the last pit stop,
the sun went down in the Sunshine state.
Behind the wall Dale Earnhardt.
We will miss you.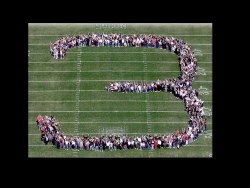 FROM THE INTIMIDATOR
Written By Cathy Thomas
Well Lord,
This ain't quite what I expected.
Didn't know I'd be leaving this way.
And if you don't mind, Lord,
Just got a couple of things I must say.
Please help to ease their heartache,
And let them feel that I'll always be near,
That I'm reaching a hand down from Heaven,
And I'll help to dry their tears.
Please be sure they know I was blessed.
This was all that I wanted to do,
To drive my heart out on those ovals.
It was the only thing that I knew.
Lord, please help my remarkable fans,
To find pleasure again at the track.
I know that they'll never forget me,
And it's okay to look forward AND back.
Lord, watch over the ones that booed me.
They just wanted their heroes to win.
I admired their unwavering loyalty.
I know what it meant, and their boos made me grin.
Lord, keep safe the other drivers,
When they strap on their helmets to race.
I loved and respected and fought 'em.
In my life's story each has a place.
Lord, bless those at Nascar, DEI and RCR,
In the spotlight and behind the scenes,
My friends who were like my family,
And helped me fulfill all my dreams.
Lord, soothe the hearts of Mom, my brothers and sisters.
They're all a part of the man I became.
Give a big kiss to my grandbaby,
Who won't know me but will know my name.
Lord, I'll miss Kerry and Kelley.
I know I wasn't always there.
When I was young I made some mistakes, Lord.
And that is my cross to bear.
Make sure they know how my heart sang,
And swelled to know they were mine.
They each have their own special talents,
And I know that they'll both be just fine.
Lord, please help guide Dale Jr.
I didn't know when I gave him that name,
How the legacy would snowball,
And that he'd be pressured to live up to my fame.
Please let him be his own man, Lord.
He is like me but so different too.
Let him know that I'll always be proud, Lord,
Of what he accomplishes and chooses to do.
Lord, please cradle my Taylor Nicole,
Too young really to lose her Dad.
My baby, my beauty, my precious, my joy,
My 'fountain of youth', I might add.
Lord, please be gentle with Teresa,
My lovely, incredible wife,
And help her to be strong and go on, Lord.
You know that she was my life.
We are soulmates and she completed me.
She kept my drive and ambition on fire.
And together every step of the way,
We forged our own empire.
I can't wait to see Daddy and Neil,
Maybe do some huntin' and fishin'.
Have you got a track or two up here?
And a car that needs work on the transmission?
I guess that's about it then, Lord.
We're not meant to understand your ways.
I thank you for my time, no one could have asked for more,
And I'm ready for my life's next phase.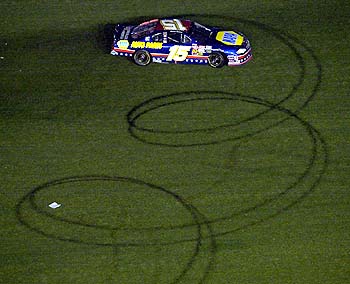 Riding With The Spirit
They lined up two by two, as the setting sun slowly fell
Something about this eve held a magical spell
A mighty eagle soaring, jet fighters flying by
And a spirit loomed over Daytona, one that had blue eyes
Remembering back to a year ago, the same track , the same race
We saw Junior take the win, and saw some healing take place
We all know that Dale rode with him, as he drove to victory lane
The **spirit of Daytona** forever will remain
But Dale knew some one else, deserved to celebrate
The celebration that had been denied, though it came 18 months late
This time the Intimidator, rode shotgun with his friend
He had to just been grinnin, he knew how the race would end
As Mikey climbed into his car, helmet on, and all strapped in
Dale hopped right in beside him, "alright buddy, time for a win"
I think Mikey must have felt him there, his confidence returned
And the fire Dale'd instilled in him, once again brightly burned
"Watch out up ahead, there's gonna be a spin"
"We are gonna have to dodge it, if we're to get this win"
"Great job Mikey, just a few more laps to run"
"Then it'll be on to VICTORY LANE! And we can have some fun"
:There's the checkers up ahead, my buddy Rusty's right behind"
"I know he wants a Daytona win, maybe I'll ride with him next time"
Donuts in the infield, Mikey didn't forget you see
He tore up Daytona's grass in the shape of a *3*
If you looked up towards the heavens, in the northwestern sky
There was one star burning brightest, right over DEI
It shone it's light from Mooresville, to Daytona's track
The twinkling in the eyes, of THE MAN IN BLACK
Congradulations Mikey!!
Barb Kerr © 07/06/02
© 2004 Fans' Memories of Dale Earnhardt