FANS' MEMORIES OF DALE EARNHARDT
|
Home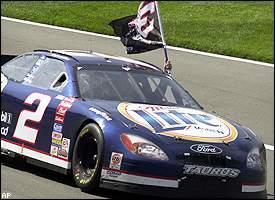 The Fontana Dedication

Written By Evelyn Lea Adams on 4/30/01
It was off to the Fontana Speedway, this weekend I went
For three of the most spectacular days, I have ever spent
You see, Dale Earnhardt's birthday, it would have been
And my support to Jr., DEI and RCR, I wanted to lend
They had this dedication and beautiful memorial planned
All this for Nascar's best, I would definitely be on hand
First run, Jr. didn't qualify, hitting the wall on the 3rd turn
Sitting in the pits, I felt my stomach, as it began to churn
Second try not good, Jr. qualified in thirty-eighth place
But I knew he would do better, when it was time to race
For the Dominator, fans cheering, upon their feet they shot
As Jr., driving with style and finesse, took over third spot
Rusty Wallace, in car #2, was first across the finish line
And there was Jeff Gordon and Dale Jr., right on his behind
Rusty slowed, accepted a flag and of him, I was so proud
He took his Victory laps, holding Dale's flag for the crowd
Three laps around the track, with my Idol's flag flying high
And all I could do, was stand there broken hearted and cry
A look of joy in Rusty's eyes, sadness and sorrow on his face
To his friend Dale Earnhardt, Rusty happily dedicated the race
Copyright 2001 Evelyn Adams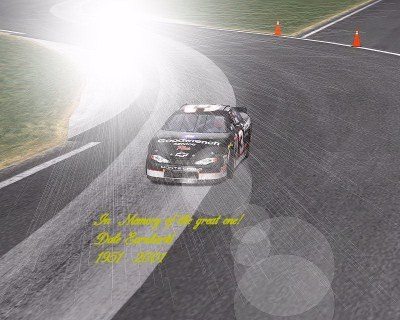 One Sunday Morning

Written by Anna Watson on 6/14/01

I arose from my bed for the day
Set to win, I was on my way
As I felt the warmth of the morning light
I knew finally this was it
I would win, I would take number 8
nothing can stop me, as I leave the gate.
It started out like normal
"Gentlemen Start Your Engines" was heard
the engine roared and my heart leapt
I could feel this was different, today was my day.
We start to take off,
As I ask the Lord for a wonderful ride
Here we go, now were underway
a rub and a crash is just how we play
apologies are just something you don't have to say
Here we go we're just about done
I look up ahead, there is my son.
I thank the Lord once again,
and smile for what he's done.
He made me laugh he made me cry
I couldn't be prouder.
My children are my life, as the Lord already knows
I thank him each day that I have been given.
Back to the race, my mind wanders back to the job at hand
I feel the rub, but continue on my way
I hear the Lord, What did he SAY?!
I'm sorry, I can't go, that's the wrong way
What do you mean, This is my day.
A few more feet and I'll finish the race
Not now Lord, I need another day
I have been good, faithful, strong
and willing to see the good that there is
Just One More Day
I understand my time is up,
look after my boys, my daughter, my wife
Show them my love through your will
I'll miss them so much,
I wish I could be there
I awoke this morning and I was right
Today was my day, it was my moment to die - my end,
nut I go on through my children and friends
miss me if you will
remember my heart, my love for racing and life
remember my generosity, and faith
As long as you remember who I did it for - my fans
my end will never come.
I will miss my life - but my memory lives on
Remember - Today Was My Day
In memory of Dale Earnhardt
NASCAR Racing Legend
2001 Copyright Anna Watson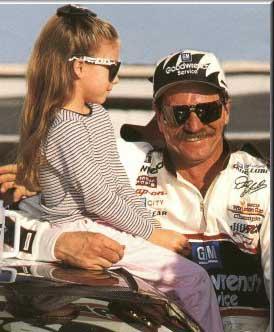 A Father's Legacy

Written by Evelyn Lea Adams on 4/11/01
Into his life four children came
He loved them all, each the same
One Son that drives a Busch car
The other, now driving in Nascar
One Daughter still in school
The other in business, where she rules
Yes, there is also a Grandchild
That to his face brings a tender smile
A wife, love of family to him she gave
Friends that sometimes thought him a knave
Fans that cheered for him on Sunday
Then returned to their lives on Monday
He worked hard for his career
Learning something new every year
To God this man was always true
As in strength and love, his family grew
Mistakes he made along the way
God, family and friends alike, forgave
So in your minds, let there be no doubt
This Father's Legacy, no one can surmount
Copyright 2001 Evelyn Adams

Daytona 1988
Sunday's Play

Written By Evelyn Lea Adams on 4/12/01

Ah yes, the winter season almost at end
For it's February, the month Nascar begins
Fans everywhere awaiting opening day
Ten months of Sundays, their time to play
They put on their teams, hats and shirts
To watch their favorite drivers, with danger flirt
Excitement felt by all, they shout and cheer
Hoping their favorite driver will win this year
They know for some it will be a rough ride
Still they watch, their eyes full of pride
The race begins, then a delay as rain starts
We sit; we Pray it stops, with all our hearts
Finally clear skies, the track dry, here we go
Now the drivers will really put on their show
Lap after lap, they race hard and they race fast
Upon the wheel, bent over, their foot on the gas
Park, Waltrip and Wallace under skies of blue
Schroeder, Gordon, Dale Jr., the Intimidator too
The fans on their feet, as the checkered flag drops
For it was #3, the Intimidator, into first place he shot
Copyright 2001 Evelyn Adams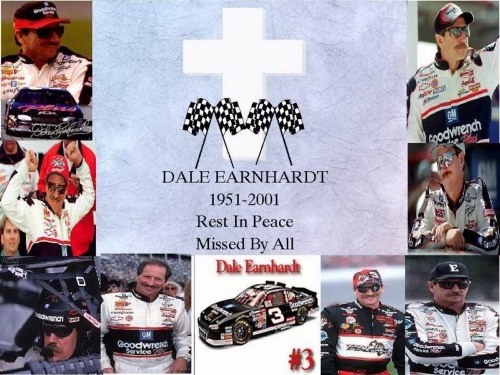 Our Hero
Written by Evelyn Lea Adams on 4/12/01
Easter season, such a joyous time
As I give Thanks to you, O'Lord of mine
This year Lord, I seek your help too
Because the grief for our hero, is so new
No, he wasn't perfect, by any means
As he put together, a great Nascar team
Mistakes along the way, he definitely made
Then he turned to you and you forgave
He was driven and impatient, some of the time
But to all that knew him, he was so kind
He didn't do everything the way you'd expect
But to all that deserved it, he gave his respect
He helped the Rookies, as they too sought success
A better teacher they never had, our hero was the best
He learned how to love, to laugh and to cry
Then Dear Lord, he learned how to die
He did this all, with such dignity and grace
As he got ready for your Heavenly Place
So please, the Earnhardt family and fans to Bless
For in 2001, you called Our Hero home to rest
Copyright 2001 Evelyn Adams
Background is available for download @
Webshots.com
by jkshel.
© 2004 Fans' Memories of Dale Earnhardt