FANS' MEMORIES OF DALE EARNHARDT
|
Home


Poems 15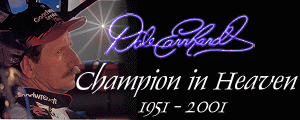 ~My Tribute To Dale ~
It seems hard to fathom
You left us six long months ago
For your spirit is alive and well
But it is your physical presence we miss so
You always gave 200%
In everything you did
You were not only a Nascar racer
You more like our dearest friend
As time ticks on
The pain is supposed to lessen
But with each tick of the clock it seems
This void only worsens
We know you are in the presence of God
And on that heavenly track you now race
But how we miss you here on earth
Your eyes and the smile upon your loving face
God take good care of our friend
For as you know he is the best
And make him take a vacation
For we know he needs the rest
And if it be thy will Dear Lord
When my time on earth is through
Let Dale meet me at the gates of pearl
And be my guide to you
I never got to meet this man
While on this earth he walked
But Dear Lord grant my wish
To meet with him and to talk
I just want to tell him
How very much he meant
Not only to friends and family
But also to the true fans that will never forget
The man not just a racer
A kind and gentle soul
Although upon the race track
You'd swear his heart was coal
Dale we miss you more and more each day
But please with assurance rest
As long as there is breath in me
The world will know You Are The Best
Renee McBride
August 25,2001
~~~~~~~~~~~~~~~~~~~~~~~~~~~~~~~~~~~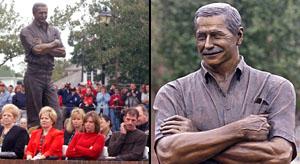 EVEN NOW
ITíS BEEN NEARLY 20 MONTHS, SINCE THAT FATEFUL DAY
LIFE CONTINUES ON, NIGHT TURNS INTO DAY
BUT A PART OF MY SOUL, STILL HAS AN EMPTY SPACE
A VOID THAT CANíT BE FILLED, THAT NO ONE CAN REPLACE
I TURN ON CLASSIC RACES, JUST TO SEE THE 3 AGAIN
I STILL PLAY THE TRIBUTE SONGS, AND THEN THE TEARS BEGIN
HE WAS SO MUCH MORE THAN JUST A RACER
NOT JUST A MAN WITH NERVES OF STEEL
WHO LIT UP OUR LIVES, WHEN HE GOT BEHIND THE WHEEL
A SMIRK AND BLUE TWINKLING EYES, ARE WHAT I REMEMBER MOST
WE EACH HAVE THAT SPECIAL MEMORY OF THE MAN THAT WE CAN BOAST
COULD HE WALK ON WATER?
COULD HE PART THE SEAS?
NO, BUT HE SURE COULD DRIVE THE WHEELS
OFF OF THAT BLACK 3
WAS HE REALLY MORE,
THAN A MERE MORTAL MAN?
SOMETIMES IT WAS HARD TO TELL,
WHEN YOU HEARD AND SAW HIS FANS
ONE THOUGHT HE COULD INSULT US
BY CALLING US EARNHARDT HEADS
BUT WE JUST GRINNED AND SAID,
"THANK YOU MAN", INSTEAD
SOON THEY WILL UNVEIL, A TRIBUTE TO THE MAN
DONE BY CONTRIBUTIONS, BY HIS HOME TOWN AND HIS FANS
A TOWERING 9 FOOT STATUE, AND A HIGHWAY WITH HIS NAME
SHOWS THE LOVE FOR THE MAN HE WAS, IT WASN'T ABOUT THE FAME
JUST A COMMON HOME TOWN LAD, WITH RACING IN HIS HEART
WHO FAME AND FORTUNE NEVER CHANGED
HE REMAINED TRUE TO DALE EARNHARDT
HE HAD SO MANY NAMES, SOMETIMES IN RESPECT AND SOME IN FUN
BUT IF YOU EVER ASKED HIM, HE WAS JUST RALPH EARNHARDT'S SON
BARB KERR ©10/03/02
~~~~~~~~~~~~~~~~~~~~~~~~~~~~~~~~~~~
I Am Blessed Because of You
On this day of thanksgiving,
I think of how blessed has been my life
I have had the love of others
To help ease any pain or strife
To share my joyful moments
And to catch me when I fall
To make that mountain I have made
Seem insignificant and small
Your love it never wavers
For some one you've never met
Never have there been truer friends
Then my friends here on the net
We have cried, we've laughed, we've giggled
Our most private secrets shared
We can talk to each other
When with our neighbors we wouldn't have dared
I fell sorry for those people
Who haven't been blessed as much as me
And for the gift that he gave me
I'll always thank our #3
Barb Kerr © 11/02
~~~~~~~~~~~~~~~~~~~~~~~~~~~~~~~~~~~
TIME PASSES AND THE LEGEND LIVES ON
Another year of racing has to quickly come and gone
Yet the pain of losing Dale for many still lingers on.
His fans still look for the black 3 on the track
And shed a tear in sorrow for their hero, the Man In Black.
The good Lord called him home that fateful day in turn 4
The high banks of Daytona the Intimidator will race no more.
He left this world tied at 7 championships with The King
When he takes the checkers now victory lane has angels who sing.
We will never know if that 8th title he could have won
He races on a different track now where Ralph's the father and he's the son.
Teresa keeps their dream alive, DEI teams go on just the same
They race not for fame and fortune but to bring honor to his name.
Dale Jr., Steve and Mikey have each felt his presence at a special win
And missed the hug in victory lane from the man with the sly dawg grin.
In Atlanta a young man named Kevin felt that same presence in his car
It was a different color, a different number, but the team was still RCR.
When Rusty won Fontana we hated to see his victory lap end
He carried the flag of the black number 3, his competitor and his friend.
Some say they lost all interest and can't watch racing to this day
Others continue on and feel Dale would want it that way.
So no matter what the choice when a new racing season starts
The man from Kannapolis, Dale Earnhardt, will live forever in our hearts.
I miss him so much. Thanks and hope you enjoy the poem.
Sandy Heidt
Billings, Mt.
~~~~~~~~~~~~~~~~~~~~~~~~~~~~~~~~~~~
LADY E
She looks so delicate and fragile, so tiny and so small
Like a beautiful southern belle, not a powerhouse at all
But beneath that frail exterior, is the strength of soul and heart
This is LADY E, known as Teresa Earnhardt
She is beautiful and humble, but has more strength than many men
If you look for a role model, look to her and say "amen"
Grace and class she radiates, she's as amazing as can be
No one can intimidate her, not our Lady E
With a will made of steel, she carries on the dream
Her soul mate now is gone, but in spirit they're still a team
She doesn't dwell on *what might have been*,
But is thankful for what she had
For the years they spent together, she thanks God and she is glad
For it would have been much worse to her
To have never had him in her life
To have never known his love, to have never been his wife
She knows they *loved a lifetime*, and he's still a part of Lady E
If there will be a tomorrow, there is no guarantee
So listen to her words, don't let a day go by
Make sure you love with all your heart, like the LADY at DEI
Barb Kerr
© 02/16/03
~~~~~~~~~~~~~~~~~~~~~~~~~~~~~~~~~~~
Two Years
Two years have gone by, and all I know
Is that itís still not the same, watching those cars go.
The red number 8, the blue 15,
The yellow number 1, but the 3 is unseen.
The Goodwrench car is now the 29,
Different driver, different car running that line.
And old Ironhead is gone, riding high up in the sky
He left us so swiftly, not even time for a good-bye.
A legacy was born on the day that he died,
Within the hearts of fans he will always reside.
Love him or hate him, he was always The Man.
And I for one will be forever a fan.
© 2003
Kimberly R. Crisi
~~~~~~~~~~~~~~~~~~~~~~~~~~~~~~~~~~~~~~~~
© 2004 Fans' Memories of Dale Earnhardt