FANS' MEMORIES OF DALE EARNHARDT
|
Home



Provided by gettin_it2001.

Angel On His Shoulder
Written by Eveylyn Lea Adams on June 9, 2001
Dale Jr. drives the red #8 Budweiser car
And he is known as the Dominator, near and far
To him Nascar racing is his heart's desire
He takes that red #8 car, right to the wire
Ok, so a race this year he hasn't won yet
But the Dominator won't give up, that's a sure bet
The time will come, when he's first at the finish line
As he's already finished in the top ten, seven times
On Sunday he climbs in his car, with a grin and a wave
Trying for a win and his point standings to save
The road for him in 2001 has been really rough
And we found out, this young man is pretty tough
He use to party and stay up late we've been told
But that's ok, he's only twenty-seven years old
This year he had to take responsibility and grow up fast
Our new found hero, had come into his own, at last
Yes, he's the Intimidator's Son, he proudly proclaims
But it's his own finesse and skill, that will bring him fame
Jr., in the red #8, destined for greatness, his path very clear
Has an Angel on his shoulder, to guide him thru the years
Copyright 2001 Evelyn Adams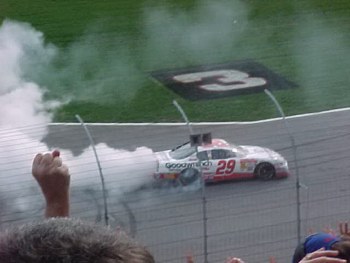 Picture available for download by Rick Seymour @
PhotoPoint
.
My Wish
Written by Evelyn Lea Adams on June 12, 2001
On the racetrack, I see the shiney white car #29
But I know that car was the Black #3, at one time
Now I cheer for that car and the Goodwrench team
For over twenty years that car was my Idol's dream
Kevin Harvick, a fine young man, drives that racecar
I know Dale and Goodwrench are proud of him, so far
God, I know that my Idol is in a much better place
For he's in Heaven, with you and your Amazing Grace
But for me there's still tears and a grief so very raw
Why Lord, was he the one to get your Heavenly Call
The Goodwrench team grieving, for Kevin works hard
The crew staying busy, never letting down their guard
People telling me that with time, my grief won't last
But Lord it's been 4 months and it still hasn't passed
Dale wanted Kevin to drive for DEI, in the year 2002
3rd race after Daytona, he won, for a man with eyes of blue
Jr., Steve, Mike and Kevin, each try to put on a show
But without Dale on the racetrack, racing has lost its glow
Sunday, when I see the #29 white car, on the racetrack
My heart breaks, I wish to God, for the Black #3 car back
Copyright 2001 Evelyn Adams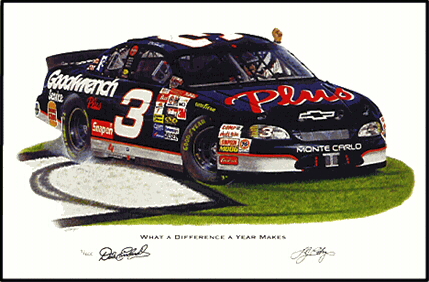 IF TOMORROW STARTS WITHOUT ME
Author Unknown
If tomorrow starts without me,
and I'm not there to see,
If the sun should rise and find your eyes
All filled with tears for me;
I wish so much you wouldn't cry
The way you did today,
While thinking of the many things
We didn't get to say.
I know how much you love me,
As much as I love you,
And each time that you think of me,
I know you'll miss me too.
But if tomorrow starts without me,
Please try to understand
That an angel came and called my name,
And took me by the hand.
He said my place was ready,
In heaven far above,
And that I'd have to leave behind
All those I dearly love.
But as I turned to walk away,
A tear fell from my eye
For all my life,
I'd always thought,
I didn't want to die.
I had so much to live for,
So much left yet to do.
It seemed almost impossible,
That I was leaving you.
I thought of all the yesterdays,
The good ones and the bad,
I thought of all the love we shared,
And all the fun we had.
If I could relive yesterday,
Just even for a while,
I'd say good-bye and kiss you
And maybe see you smile.
But then I fully realized,
That this could never be,
For emptiness and memories,
Would take the place of me.
And when I thought of worldly things,
I might miss come tomorrow,
I thought of you, and when I did,
My heart was filled with sorrow.
But when I walked through heaven's gates,
I felt so much at home.
When God looked down and smiled at me,
From His great golden throne.
He said, "This is eternity, And all I've promised you."
Today your life on earth is past,
But here life starts anew.
I promise no tomorrow,
But today will always last,
And since each day's the same way
There's no longing for the past.
You have been so faithful,
So trusting and so true.
Though there were times
You did some things
You knew you shouldn't do.
But you have been forgiven
And now at last you're free.
So won't you come and take my hand
And share my life with me?
So if tomorrow starts without me,
Don't think we're far apart.
For every time you think of me,
I'm right here.... In your heart.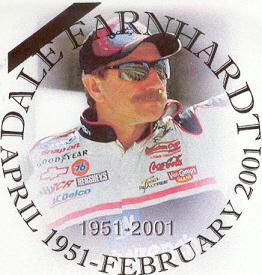 Created and provided by DE3FAN
In Memory of Dale Earnhardt
Written By: Chris Tedder
Tedder80@aol.com
We sit in anguish mourning
the loss of our friend.
It's so hard to handle sometimes,
and we wonder why Dale's life had to end.
No one can ever replace him,
he's truly one of a kind.
Dale will surely be missed now,
but he'll always be in our heart and on our mind.
He will forever be the greatest,
and his success will live on.
Dale was loved, hated, but respected
for he as a legend will stand alone.
The thought of Dale leaving
us is such a nightmare.
It seemed so unreal until Rockingham
when Dale Earnhardt wasn't there.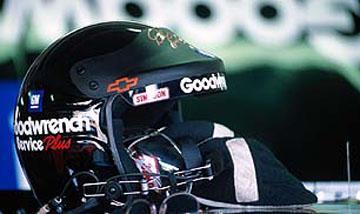 I found this poem posted on an Earnhardt board and felt like it was too good not to post. If it is yours, or you know who it is, please let me know so I can give the poet credit for it! Thanks!
ONE QUARTER MILE FROM HEAVEN
Author Unknown
Like a Guardian Angel from four cars back,
Watching Michael & Dale Jr. as they circled the track.
No intention of winning, Just holding his place,
So proud of his "boys" now winning the race.
We thought it was over; The end was so near,
No time for pain; No time for fear.
We did not know, as there was no sign,
Dale was one-quarter mile from his Final Finish Line.
Within an instant, Nascar fans would be facing,
An eternal change in their world of racing.
He was one of the Greatest; Beloved in his sport,
With a grand career, now sadly cut short.
All the crowd noticed was excitement and debris,
But a miracle was happening we could not see.
Dale said Goodbye through shining metal and chrome,
As God gave "Number 3" the checkered flag "Home".
But forever in our hearts, and in the scheme of things,
We'll picture him circling Heaven with Black and Silver Wings.
Grinning; Telling Angels...and even the Creator,
"Look out over there.....Here comes The Intimidator".
© 2004 Fans' Memories of Dale Earnhardt