FANS' MEMORIES OF DALE EARNHARDT
|
Home


Comments about Barb Kerr's poem: This was so beautiful and I couldn't agree with you more. It made me cry all over again. It's been weeks and
I still think daily of Dale and what his family must be going thru. -Michele
Guardian Angel
Written by Barb Kerr on 03/18/01
She is our First Lady, the one we hold so dear
We wish that we could hug her, and wipe away her tear
So hard to try and be strong, with such a heavy heart
To try and pick up pieces, of a life that's torn apart
They didn't even give her, time to deal with the pain
Instead they made her have to fight, to protect his name
Standing beside her, are family, fans and friends
Never once wavering, steadfast till the end
Going the distance, for the one we love
Dale is seeing all of this, from Heaven up above
I can see his anger, at those hurting those he loves
He'll be a vengeful angel, not a peaceful dove
Heaven's Intimidator, lightening flasing in his eyes
With the roar of thunder, comes his battle cry
He has given many signs, that his presence is still here
Those who have wronged him, should be quaking with fear
A Battle is wageing, between what's wrong and right
Leading an army of heroes, is our Black Knight
He will not desert her, or leave her alone
Love doesn't die, when God calls you home
He is with her every minute, his spirit still remains
He will find a way, somehow, to help to ease her pain
He loved her for her strength, he loved her for her grace
A love such as that, can never be replaced
Woe, to those who hurt her, he stands in their path
He faces her with love, and faces them with wrath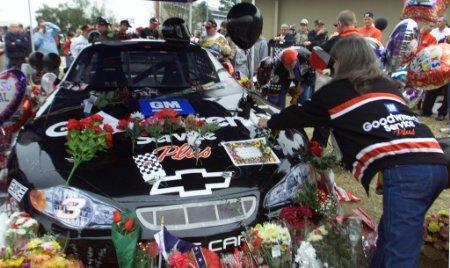 Comments about Cathie's poem below that were posted on my old site:
I just want to say that you have written some very great poems about Dale. They brought tears to my eyes. I throughly enjoyed them all. Today it has been 2 months since Dale passed on & i still can not believe that he is gone. These words were written about Dale in a magazine:
NEVER EQUALED -- NEVER FORGOTTEN. No truer words have ever been said.-Unknown author
There will never be another Dale Earnhardt.Thanks for sharing your poems with everyone. Although he will never be forgotten your poems help to keep his memory & THE MAN alive for all of us. Thanks -GORDONFAN
Dale's Memorial
Written by Cathie Smarowsky on 2/22/01
Today is a sad day
One none of us wanted to see
The day we shall all
Say goodbye to the number three.
Behind that smug look
And those icy steel blue eyes
Was a man with a heart of gold
One who was very wise.
All he ever wanted
Was to drive and to win
He was a man driven
His fire burned within.
Sometimes he drove rough
Reckless many say
But that got him to where
His record stands today.
He was doing what he loved
The day the Lord called him home
Driving hard and fast
If only we had known.
He's looking down upon us now
From the racetrack in the sky
We're grieving for him still
And still asking why.
We shall never know
If he knew what was to be
Farewell Dear Dale
Farewell to our black 3.
Copyright © 2001 All Rights Reserved
(this poem is available on memorial markers made in Dale's honor, if anyone would like to
order one, the addy is
http://www.legacymonuments.f2s.com/,,,I wrote many more and they are listed on my homepage...www.geocities.com/crazy3gal_2000...come by and check them out.)




DAYTONA 2001: A DALE EARNHARDT TRIBUTE
Written by LUKE REINGARDT
Gentlemen start you engines, the famous words broke through
It was February 18, 2001, no one ever knew
In row 4 there he was that good old #3
Dale Earnhardt, The Intimidator, loved by you and me
One wave of the flag and off they go
It was a good race, God I love this so
After the big wreck look its Dale there in third
Its almost complete after all they had endured
This race is almost over it is almost won
But wait there is a crash as Waltrip and Jr. got done
Oh God its Dale I hope he is ok
It looks like he is its not that bad on replay
The minutes seemed like hours the hours seemed like days
I went to the website but his condition is still a haze
Then a little later I heard it on TV
I can't explain the feeling that came over me
Dale was dead, oh no it can't be true
That is when I broke down, as others did too
All the years and all the times came back in a flash
The times that he would win it after a mad dash
#3 forever thatís all I have to say
We all lost a part of ourselves on that faithful day
DALE EARNHARDT: 1951-2001
we love you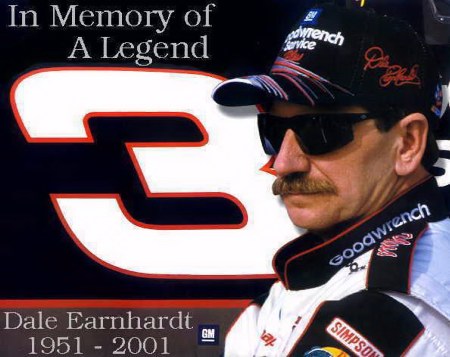 The Man In Black
Anonymously submitted to me on 4/24/01
The Man in Black knew the track.
He was our hero and that's a fact.
Some people hated him, but deep down they knew,
That he was a great man, one of the few.
The memories stay
more and more each day.
We cry, we weep,
but the memories we keep.
As time goes on, the pain will heal.
But sorrow at this time is all we feel.
We miss you, Dale, and realize your days are done,
But in our hearts we know you'll live on in your son.
© 2004 Fans' Memories of Dale Earnhardt