FANS' MEMORIES OF DALE EARNHARDT



The Fans

We all know that when surfing the web, very few people use their real name as a means of recognition. With the progression of this site, I decided to catalog the screen names of the fans who loved Dale Earnhardt most. Upon coming up with the idea, I figured I would ask if you all would like for me to submit a thumbnail pic of you to go with your name. If you would like to see your Dale Earnhardt screen name and/or pic on this page, please visit my message board linked below and submit your screen name and email addy. I will email you back and collect your photos if you wish to have them added. Please don't email me, I will email you. THANKS and enjoy the names!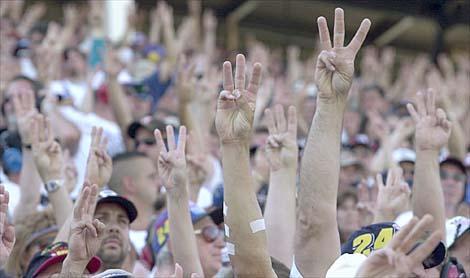 #3rules
My screen name is #3rules.....not much of a story behind it,,,,,,the name says it all....:)......Thanks for the link.
2fst2cu
I picked this screen name because every time Dale won a race and was standing in victory lane with his trophy, you could just tell by looking at his grin that he was indeed ----to fast to see you.
3-4ever
Dale Earnhardt will be my favorite driver 4-ever. His name will go on 4-ever. We will 4-ever remember that he was a wonderful father, husband, and stock car driver. He will 4-ever live in my racing memories.
3and8fan
Dale will live on the track forever. Ever time I watch a race I find myself looking for that black 3 car to be taking the lead coming out of turn 3 on the high side. Then I realize he is gone, but never forgot. Long live the number 3. Thanks for a life time of memories.
3babe
3chick
Always3

Asphaultangeldale
Well I chose the screen name I have because of the love I have for Dale... To me he was the King of asphalt, He was an angel to me even when he was with us...Hence the name.
badak3
To Big E & Little E fans. Winston Cup racing will never be the same without Dale in it.
Bama3n8
Hey I think a collection of Earnhardt screen names is a great idea. Very original.

BigEseeker
I created my screen name after Dale was gone. I use to use the screen name Volsy2k, but decided that I wanted to show my appreciation for Dale instead. I am constantly seeking out information on him, thus...the name. :)

blueridgeboy3
I started rootin for Dale in 1984 because a buddy of mine was a big stock car racing fan. Well my Mom worked at a Wrangler plant in Luray Va. One day she brought me home a poster of Dale and the Wrangler sponsorship.Well as we all say, the rest is history. He is and will always be the only hero I ever had. Life and racing for me will never be the same. My screen name in TeamRacing has always been blueridgeboy. But now I want to change it to honor Dale. Its now blueridgeboy3. Simple,yet respectful.
bubble3n8
Cheryl21598
My e-mail address - the 21598 after Cheryl (my name) is the month/day/year of that same big win!!!- the Daytona 500
DaleEarnhardt3_4ever
DaleNut
I think its a great idea. The man touched so many people. Nobody will ever know the magnitude of his effects, not only in racing, but the whole world. A true CHAMPION, in every sense of the word. HE will never be forgotten!!!
Dalesgal103
I chose this name a long time ago when Dale wasn't always doing so well. I have stuck by him thru thick and thin. I have taken a lot of ribbing about my favorite driver, but I still love him. Now I watch jr., he has kind of taken over dads spot. The races just are not the same anymore though. Sometimes i even fall asleep during the Sunday races, with Dale gone its just not the same!!! A man larger than life itself, not a people person, but still dearly loved. Good bye Dale. I will never forget you!!!
#3 #3 #3


Daytona
My screen name relates to Dale's big win at the race that eluded him for so many years - the Daytona 500. Winston Cup racing definitely is NOT the same without that black #3 Monte Carlo rollin' around the tracks...
DE3_n_DEjr8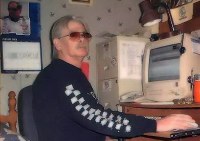 DE3FAN
Why DE3FAN? Been a Dale Earnhardt fan since 1979! Still am, always will be! Dale Earnhardt lives! Have over 300 Dale Earnhardt collectibles.

DEDJLUV3
I created this screen name after Dale died, shows my love for Dale Sr. and Dale Jr.
DEIFANS38
We picked our screen name out of memory of the Greatest NASCAR Driver, OUR MAN, Dale Earnhardt. He will be in our hearts forever. His legacy will live on forever through his sons, the drivers of DEI and the love of his life Teresa Earnhardt. Dale touched so many lives and he will never be too far from us if we just keep him in our hearts..
dpcracing
I don't have an email with earnhardt's name but I do have a vanity plate. D EARN3. Just thought I would share that with you. I get alot or responses from people.
earnhardtgal
earnhardtgirl
I have been an earnhardt fan for many moons. This is a great idea.
thanks.

ErnhrtfanAlwys3
Hi everyone! I've been a Dale Sr. fan ever since he drove the Wrangler car. I miss him dearly and Nascar will never be the same. Please feel free to go to my Dale Earnhardt
Tribute Page
if you want.
Dale Earnhardt: The Man, The Myth, The Legend...No One Will Ever Replace Him
ernhrtfan2001
To borrow from a wrestler "as bad as I hate to" THE BEST THERE WAS, THE BEST THERE EVER WILL BE." He is sadly missed by more than a few.
fast34me
My favorite memory of the Man is his climbing out of the ambulance at daytona after having flipped the goodwrench chevy and climbing back in it to take the car behind the wall and then return to the race after repairs were made to the car. One tough customer. Mr. Goodwrench.
fast3n8
Ford_Wrench4_3
forevergoodwrench
I lived in N.C. for 5 years and was in awe of the man in black. I have never since my father died had such a void to fill after he died. I know all of you feel the same way. I enjoy this site and all dedicated to his memory.
ghbootman3
I have had a 3 in my email address long before that tragic day feb18, 2001. I am a cowboy bootmaker and a huge Earnhardt fan. I incorporated all that into my email ghbootman3. I had to do something to reflect my loyalty to big E. Thats the story behind my email address. Thanks for keeping the faith alive.
ginatrueto#3
GottaB3
intimidate_me
Dale is still MY hero and a role model to all. Dale
is NASCAR

INTMD8OR
It took me a long time to get a screen name for the intimidator.. but I finally figured one out.
Intmd8tr_fan
Great Idea!
jillnascar3
I was lucky enough to not only find but buy the limited edition Intimidator...I decided to drive it and I am having a blast with it. If anyone has or knows of someone who also owns one please email me. I think it would be a great time to meet at DEI for Dale's birthday ....4-29-03. I know it would take some planning but I think it could be done. Just imagine...a parking lot full of Intimidators :)
I just received my certificate of authenticity yesterday and my car has the production number of 388. My new plates will be...LTD 388
JohnNascar3
JustLovesDaleJr

lonesomedove238
The 2 is for Rusty, the 3 is for Dale and the 8 is for Junior. I will never forget Dale. He was the greatest and my hero.
luvthree

Maddogg
It stands for M-mad A-about D-dales D-driving O-or G-great G-grin....MADDOGG....mad being the good mad..
maninblack29_3
I have been a long time Dale fan. And there still is an empty feeling every race day, but I cheer on Dale jr and Kevin Harvick. Dale will always be missed .....but I am sure he his watching every race...shaking his head and has that "Boy I told ya" smirk on his face.
missn#3
Thank and keep up the good work.
MissuDale3
Just wanted to leave my email as a Dale Earnhardt # 3 Fan.
Rest in peace Dale we will never ever forget what you did for us fans and for Nascar itself. You made it what it was for you and your son.You left us doing what you loved to do and we will never forget that wonderful smile.
Love you forever Dale#3
Mary
Fan in Newport News, Virginia
MoDaleFan3
He is the reason I made it. For I am a Missouri Dale Earnhardt Fan.
momster4de3
My kids' friends have always called me momster, but I picked 4de3 long ago meaning "for dale earnhardt 3," now I think it can mean that, plus I am also "for the 3 de(i) drivers," thus, momster4de3.
mrg_3
Grew up in NY. Was and still am a die hard NY Giant Fan. My Dad nicknamed me Mr G years ago. Went to my 1st race 1979 Daytona 500 (Dale's 1st). Saw the great Allison, Yarborough's last lap tussle. Bobby Allison was my favorite. Always liked Dale's driving style and he became my favorite when Bobby had that bad wreck and retired. Lived in Florida since '82 was season ticket holder for Pepsi 400 since 94, dropped my 4tix this year due to another $10 increase after dale's death and the cooler ban. Never saw Dale win in Daytona, had to go to Talladega and saw the 1st of his (3) straight. Was at the 500 when he died and was at last years 400 when Jr won. That's why I got the 3 in my address. I would rush home to see qualifying and Happy Hour to see Dale. Now it's not the same. I route for DEI and HArvick, but NASCAR is hanging their hat on Gordon and Rich. I'm originally from Long Island, so I'm for #1 Steve Park or Jr or Mikey (a class act). In closing, Dale Sr was the best driver I ever saw in my life.
myhero3
Nasfan3
¤Ñâ§çãrBàbè3¤
I also think this is a wonderful idea.
NascarChevi3
My screen name has 3 different meanings it was made by the 3 things I love the most my love for Nascar my daughter Chevi and my love for the greatest driver ever theres not a day that goes bye that I don't miss Dale even though I never new him personally I feel like I have lost a family member.
NASCARKING3
no1no3fan
You've done a wonderful job with this site. Don't be surprised if you see even more awards for this. God bless you.
nscrde_3
This is my lience plates #. Has been for years and will stay that way. Dale Earnhardt was my hero We were in Daytona at the time of accident and it is still hard to believe. I still watch the races but will never be the same. All the best to all of DEI and RCR drivers and their teams.
RacinAngel_3

RacingOnForDale
I created (it) in Memory to My Hero , Friend and the Champion Dale Earnhardt Our # 3 Forever ...
rocketracin
Dale's team had usually made his car perform like a rocket, so there is a tiny connection.
Sammy_3
I've been using Sammy_3 and Ford_Wrench4_3 for over a year. One of my fondest memories of Dale is when he won the fall race at Talladega in 1999. I was at the track and yelled so loud I lost my voice for a day or two. I was at Darlington this past weekend and I still feel a sense of loss without the Black #3 on the track.
sassy_3_50

shasde03
I have always been a huge earnhardt fan.
Speed Demons3
Not really a screen name but it is the name of my fantasy racing team
theluckypenny
When I chat on msn in the True Fans Of Dale Earnhardt room or any other room I use the nick theluckypenny. The reason I use this one is,
My little cousin Wessa is the little girl who gave Dale Earnhardt the penny he glued to his dash when he won Daytona . I truly miss him so much but He brought so much joy to everyone.. especially Wessa. She was born with spina bifida and she is paralyzed from the waist down. Through the make a wish foundation she had her wish of meeting Dale and going to Disney World to meet Mickey mouse. She got to do both. But meeting Dale and becoming his buddy made her life complete. He has done so much for her that I dont have enough room to write it all but he truly made a diffrence in her life as she did his .. Just wanted to write a little bit about the memory of Dale for our family. And to tell you why theluckypenny is my nickname when i chat...
Theresaluvs#3
My nickname isn't anything fancy or hard to figure out, it's just me and how i feel about Dale and #3. Alot of people ask me what my real name is, well it's simple Theresaluvs#3. And yes Dale had a teresa to,and i'm sure she will alway's luv #3 to.Along with alot of people.We miss you # 3. P.S. This is a great idea BigEseeker.
Thunderhardt
# 3 ........... We still miss you.

trenade03
TRUE3FAN
Hi to you from Columbia City, IN. Just wanted to add my e-mail address as a FOREVER 3 fan. Junior is my driver to route on now, but daddy will always be THE MAN who started my love for NASCAR.
txnascarfan3
I think this is a great idea....I will always be a great fan and will always love Dale...To know that there are soo many others out there that have something in common with me, that is this personal...is great..
I hope you accomplish something that will make all Earnhardt Fans happy!
© 2004 Fans' Memories of Dale Earnhardt