FANS' MEMORIES OF DALE EARNHARDT
|
Home



These are poems that have been submitted to me, and I hope you are touched by them as much as I have been. You can truly feel the pain and compassion that each writter has for the loss of their fallen hero. Thanks to all of the writters who have made this section possible. Thanks also go to those who provided pictures for this site. All the pictures provided by friends have been credited below each picture . Also some of the poems that were on my previous site had comments about them posted. I have provided those comments at the end of these poems. God bless you all!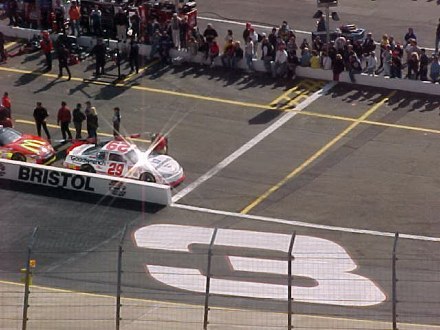 I thought I'd share this unique photo with ya! I took this pic at Bristol qualifying, the great thing about this pic is that when Harvick was getting ready to go, his car was the ONLY one that got any glare from the sun. It was sunny all day, but this was the only picture that turned out like this!! I took at least 15 other pics, from the same place. Just thought I'd share the pic with ya, looked to me like Dale was watching!! (Taken in Spring, 3/01) Picture owned and provided by PEPSIMAN24.
To Kevin from Dale
Written by Barb Kerr on 3/11/01
The race was filled with memories, as the balloons floated towards the sky
But up there Dale was smiling, and had a twinkle in his eye.
He's been there at every track, invisable to see
Watching THE KID he picked, to drive the number 3
This was his third race, Dale said, "Guess it is time"
"For the KID driving my car, to be the first across the line"
"I liked what I saw, and knew he'd do just fine"
"He won this one for me, THE KID driving 29"
"This is what you needed, to know that I'm still here"
"Richard and Chocolate crying,but this time joyful tears"
"Kevin, I had to tell ya, your wife's the prettiest thing"
"You have all my blessings, and all the joy life brings"
"I didn't make it to your wedding, but a gift I send the same"
"Thought this might be fitting,... a trip to Victory Lane"
"Like a replay of my Daytona, just like in a dream"
"Driving down pit row, and greeted by every team"
'I want you to know, I'm proud of what you do"
"Doing double duty in the 29 and 2"
"I was up here cheering, like seeing time rewind"
"Almost like a replay, of me and Bobby at the line"
"You can bet that I was grinning,as I watched you go by"
"Doing Alan's Victory Lap, with three finger waving high"
Love Dale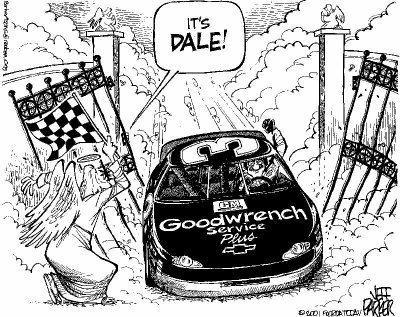 Raceday in Heaven
Written by Barb Kerr on 3/10/01
Dale went up to Heaven, looking for a race to win
Pulled up next to Neil, and gave him that sly dwag grin
"How ya doin' buddy? I knew I'd see ya here"
As he reved up his engine, and threw it into gear.
Neil sat there grinnin', then let out a holler
"Been waiting for ya pal, but I'd just as soon you'd foller"
He reved up his engine, and started after Dale
Wasn't very long, before they were runnin' nose to tail
Up ahead was 25, Dale saw that it was Tim
Waved as he passed him,and said "how the heck you been?"
"Great to see ya Dale,I've missed racing you!"
"Say hi to Kenny, he's there in 42"
Dale kept on movin', saying hi to everyone
He couldn't remember when, racin' been such fun
Up ahead he saw some one, he could hardly wait
Dove down low, gave him a rub,saying hi to 28
"Been a while, since we raced" Davy said with a smile
"Wanna see if we can trade some paint? I'll race ya the next mile"
They hit the line together, with grins a mile wide
Friends doing what they love, racing side by side
The next car had a rookie stripe, the driver seemed to shine
Dale knew in an instant it was Adam that he'd find
"Kid, I'm really proud of you!" and then gave him a big high five
"It's cool to know your dad and you both race the 45"
Next to come was Alan, so Dale gave him a tap
"When we're done let's show them, your Polish Victory Lap"
Driving on for miles, with a smile upon his face
What a day it's been, for his first Heavenly race
They all pull in to Victory Lane, let the celebration start
he's presented his trophy, by no other than Ralph Earnhardt
"Man, this is the best race, I have ever won"
"Now I know how Junior felt, but this time I'm the son"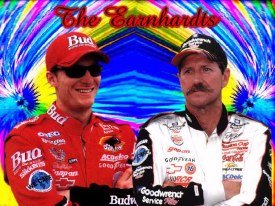 Hello Son
Written by Barb Kerr on 03/03/01
Hello there Son, how are you? I'm sorry I had to leave
I know my leaving you, has causes you all to grieve.
It happened in an instant, in a twinkling of an eye
The only pain I felt, was that I made you cry.
I didn't want to leave you, but God had called he home
But I am always with you, you will never be alone
My Daddy said to carry on,and I say the same to you
Live life to the fullest, in everything you do
Treat friends with kindness, show those you love you care
Don't stand outside the fire, do the things you dare
You've made me proud, beyond any words
Words in my heart, I know you heard
Son, I do have one very special task
Take care of Teresa, this I ask
She'll need your strength when times get rough
And Taylor is not old enough
Tell Kerry and Kelly to do the same
Be brave and remember the Earnhardt name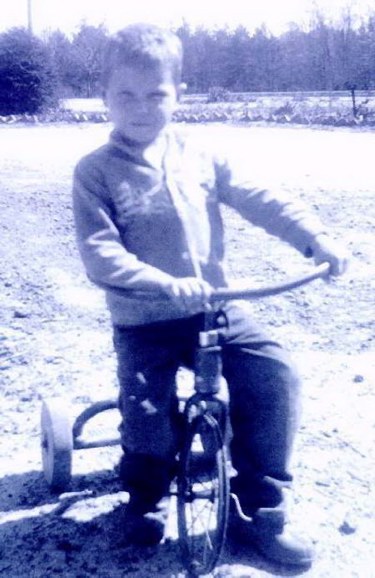 Dale's 1st 3-wheeler.
The Kid from Kannapolis
Written by Barb Kerr on 03/03/01
Just a poor kid from Kannapolis, whose love was racing cars
How would they have ever guessed, he'd ever come this far
A home town boy, the kid next door, would become Da MAN
The Intimidator leading, his multitudes of fans
He picked for his hero, the man he loved the most
He was his Daddy's son, he would often boast
His roots were not forgotten, a simple man at heart
He remembered every single one, who helped him get his start
Though fame and fortune were his to claim
Down to Earth he still remained
His values were important, they made up the man
God, his family, friends, and the fans in the stands
Not just our racing hero, delighting us each week
While doing the impossible, approval he did seek
The one that he hoped most to please, the love of his life
Was his constant companion, Teresa, his wife
The one who made Old Ironhead, melt with just a smile
She was his strength, there is no doubt, in times of joy and trial
But now her strength's been tested, beyond what is right
She carries on, though sad of heart, his love is her light
She stands so bravely, but now alone, and lets out a sigh
And glances up toward Heaven, with a tear in her eye
Some day they'll be reunited, God has promised this
But for now, her dearest memory, is of that final kiss
Junior's heart was torn apart, like his Dad's was years ago
He's trying hard to carry on, to be like his hero
Best friend and mentor, rival on the track
Big E , but mostly Dad was the Man in Black
He'll do what his Daddy did back in those other days
He'll hear his Daddy's voice "Carry on son", it will say
"When you hear the thunder and ask why it's so loud.
It's because I am so proud of you, that's me cheering loud"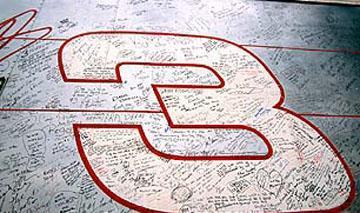 Tears for #3
Submitted by Britta Snow with
permission from the writter, Scott Harris
Earnhardt's death has shocked us all, the tears I cry will always fall.
The sadness I feel runs so deep, my heart is broken, again I weep.
For 20 years he was my source of pride, I never thought Sunday would be his last ride.
He was the man many feared; again I must wipe away the tears.
For 20 years I watched him run, and now I must support his son.
Sundays will never be the same, the champ is gone, but not his fame.
Race day will never be the same, how I love to say the Earnhardt name.
I want you to know I miss you so, as a person you helped me grow.
As the tears again are flowing free, my prayers are with the number 3.
Submitted by fanfor3.
A LEGEND 1951-2001
Written by Kimberly P. David
(As how I would hear Dale's Last Words)
Daytona will be my last race, on the track,
I can't get my last lap back.
Don't cry for me boys. I died doing what I enjoyed.
God whispered down to me that sunny day. And tld me it was my time to go away. I am in Heaven
now. You can bet I am looking down. Smiling at you guys. As you go around and round.
I loved my family I am holding them now in an angelic embrace. Hold your head up Jr. I won the race!
How I will watch from here up aboce. Just know I lost my life doing what I loved...
Comment about Kimberly P. David's poem: Just wanted you to know the poem was beautiful and I cried all over again. -Michele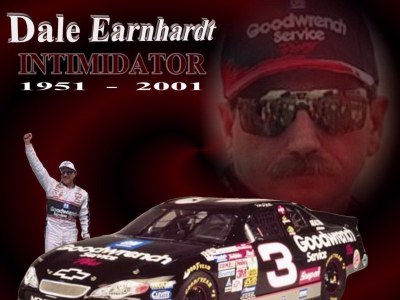 My Tribute to Dale Earnhardt
Written by Toni Hazelbaker
He was a great hero to both those young and old, I'd sit around and listen to the stories that were told.
Bout' fights and feuds and wrecks and wins he had back in the day, Through it all I never thought that it would end this way.
I got into racing, when Dale was in his prime The man in black, the hero, was a legend in his time.
I looked up to him, like many others did The impact he has made on me - simply can't be hid.
I never thought a sport would mean so much to me, but with Dale in the drivers seat it came so easily.
I saw a quiet side, a gentle kind of way, An awnrey kind of smile, that in my heart will stay.
There were other times in which his temper flared. But even in those times, you could still see that he cared.
My husband introduced me to a man that changed my life, A Man who honored God, his family and his wife.
I saw in him a man that you may not have seen, There was SO much more about him then just that Black Machine.
Some people just don't get it, some people make remarks, They never knew the man that will live inside my heart.
I am glad I had the chance-to see inside this man I am very proud to say that I am still a fan.
He's in a better place now, with his Daddy and his friends.
It's up to us to see now that his legend never ends.
© 2004 Fans' Memories of Dale Earnhardt.