FANS' MEMORIES OF DALE EARNHARDT |
Home


Fans' Memories 4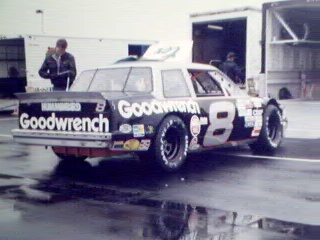 Dale, Bobby, and Roger
When Callie's dad died, she found these above pics
If you would like to contact Callie regarding her drawing,
please
contact her
if you are wanting a likeness of this.
'The Only Eyes That Jr. Will Ever Need To See With'. Jr. actually wrote a song titled 'Eyes To See' years ago, about a girl though. Pretty 'deep' actually. It was said when Ralph passed, Dale was never the same but the determination was always there and he proved it over and over. The sport of Nascar evolved and changed at that point, another generation. It's said that when Dale passed, Jr. IS the same, maybe. This much is true I know; the determination is very much still there like before. Yet another generation like no other, yet the same. I would rather refer to it as something a little more than just simply 'passing the torch'. I consider it to be the flame of a burning desire to win that will shine as bright as the sun and maybe even flicker at times, but will never die.
~Callie W.
~~~~~~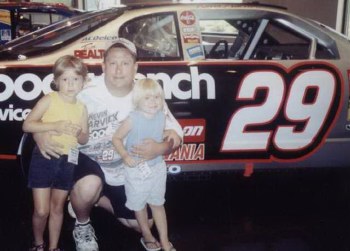 Ray and his daughters Lyndsey & Elizabeth
Even though it has been over a year without the driver I so wholeheartedly supported and cheered for, I still can see a race and see his car racing around with the guys!!!!..LOL The man will never be gone in my mind..he is right there at every race watching his cars and freinds and of course his Family. I have met Dale a few times, and the man is great. I remember one time he was going to his car and saw a young boy waiting at a gate to just get a glimps of the Gm Goodwrench driver. Dale stop, turned and walked over to the young boy nelt down and took off his hat autographed it then handed it to the boy then patted his head and headed back on the path which he was headed. How many other drivers would do that???? Not many.
# 3 Will be in Our Hearts Forever
~Ray
~~~~~~
When I first became a nascar fan Dale was the only driver I knew of and cared for at the time, Back in the summer of 96 when they had Dale's car in my area I wanted to see it really bad but I couldn't because I was really sick at that time, I wanted to stop and see his car befor I had to be put in the hospital, My mom would stop cause i was so bad off, If i had stop i may not be here today, Thats how bad i was, I will never forget that, I always love to see Dale making his way through that pack of cars,I will miss that
~Dave Hitt Vestal, NY
~~~~~~
my wife and I were married in JAN. of this year(2001) and spent our honeymoon at DEI.on the third day there we were sitting in the parking lot,the only ones there,when dale drove out from behind the shop.when he stoped at the stop sign,I hollered at him to sign my diecast.he smiled and waved,but made the turn and took off.I thought I had missed my chance.we decided to wait around. about an hour later,I saw his truck coming down the road.as I started to get out of the car,he drove on by.I was crushed.then,the next thing I know,hes pulling in the lot.he pulled rite up beside our car,rolled down his window,and said "HOW YALL DOIN?I HEARD YOU HOLLER,BUT I HAD TO GO TO THE MAYORS OFFICE".I was almost speachless.he shook our hands,sighed my diecast,the daytona 500 winner,and proceded to talk to us for obout a half hour.it was incredable.here was the 7 time winston cup champion talking to us as if we were sitting on the porch having a glass of lemonaid.he was as nice as could be.even a little shy.he seamed a little surprised that we spent our honymoon waiting to meet him.it was one of the greatest times of my life.that was JAN.24.he died on the 18th of FEB.we feel very blessed to be some of the last fans to meet him.
~3carfan
~~~~~~
gsmnp2000mh@yahoo.com I had the joy of meeting dale before the 1990's-- no passes were needed then. Words cannot express his kindness to others and his thirst for victory. He became my family's sunday friend whether we were at the track or at home watching the race. His untimely death has shook me to the core. During the Daytona 500, I saw all of the race except for the last 2 laps. I had to go work. When I learned of his death at 10 pm I was in shock. I kept asking Scott, my husband, are you sure he is dead? We did not work for three days. We wathced everything on tv--depressed. I became jealous of soctt becasue he cried so freely--I could not cry--not even one tear--I was in disbelief. On the fourth day I stood in line to have a prescription refilled, I felt a tap on my shoulder--I thought it was my husband--I said I'm still waiting and the voice behind me said so am I--he continued on you're wearing a mom and pops earhardt jacket he waited for a response i gave him none i wanted no pity or comments about how he committed suicide for others to enjoy victory (rumor mill)instead, the man once again tapped me lightly on the shoulder and said I am so sorry about your loss, can I give you a hug? He did and I cried like in his arms for over an hour. He wore a #28 davey allison jacket. God bless him--I have not seen him since to thank him for his concern and comfort in a time when i could not grap the reality of dale's death
~betty

~~~~~~


"Two brothers in Ohio"

This pic was submitted to my old site anonymously.

~~~~~

Thanks to Norma Anderson for her contribution of pics!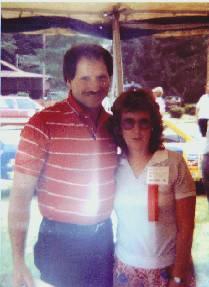 Granma & Dale in Akron, OH 1987
Granma & Kerry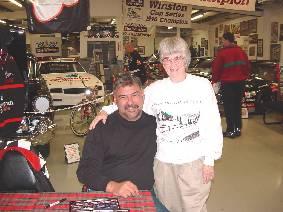 Granma & Chocolate at RCR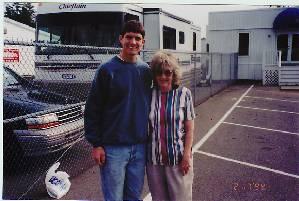 Granma & Adam Petty at Petty Enterprises,
just one month before he died


© 2004 Fans' Memories of Dale Earnhardt